These free landing page WordPress themes are used extensively and are one of the best sellers of all time.
For a website, the landing page is the most important because it forms the first impression in the eyes of the visitors.
If someone is not impressed with the landing page, he is not likely to check out other pages.
Therefore, all the business and personal websites pay so much attention to make their landing pages stunning and eye-catching even though the inner pages are not on the same level. When it comes to designing attractive landing pages, you have to use free landing page WordPress themes which can also be used for product and service launch and display.
They increase the trust factor and make a visitor like a website instantly.
If you are searching for free WordPress landing page themes which are light-weighted and flexible and offer some awesome features then you must choose SKT Software.
This template is completely responsive in nature and provides different widgets to market your services, testimonials, and calls to action. If you are looking landing page for selling few software or hardware products online then there is no better option than SKT Software.
For faster loading speed it is well optimized and tested with major third-party plugins then we found it working very well. Thus every content of your website will look great on the browser or a device that you prefer.
This theme has so many of features to offer such as plenty of fonts, unique designs, eCommerce compatibility, and multilingual nature, and so on.
For an individual or a creative agency, Posterity is the best option to choose. Thus it can be used to showcase portfolio, CV, speaker's details, services provided by coachers and mentors.
This template consists of all those features which are required for generating leads even it goes well for landing page websites. The theme comes with CTA and supports the MailChimp plugin so that you can easily enhance the email subscribers and grow the traffic.
Because the theme is totally responsive in nature it makes sure that your website looks great on various devices and browsers.
Other than this it permits you to link your social networking profiles with your website because it offers a social media integration feature by default. This will help you to increase your followers and get more potential customers.
If you have already studied so many free WordPress landing page themes available in the market but you are not able to choose anyone then we highly recommend you to look over Activism Lite.
The demo design of this template is basically meant for activism, nonprofit organizations, and NGO's related niches but you can change its content to express your business thoughts.
Very easily you will be able to showcase the reviews of your clients, services details, and other useful details.
Additionally, the social media icons can be integrated to make your content sharable on various networking sites. Social media plugins integration will help you to get more followers.
Another most excellent theme that we would like to suggest to you is Décor Lite. This template works best in showcasing the services or products that your business offers in the best possible way.
The template and its demo content are just perfect for a creative person who is looking to sell their handmade products, pottery, and jewelry online.
Every section of your website will look attractive and make sure that your website content looks good on every device and browser that customers use.
Also, you get a separate about us section where you can add informative content about your website so that your visitors get familiar with your business without any problem. You can use testimonial sections to share reviews and feedbacks from your past clients.
If you belong to some agency and would like to have a platform from where you can hire more actors and dancers for your upcoming project then SKT Actor Lite is a perfect option. Its features are not just limited to establishing agency websites but also features are helpful in establishing websites for individuals.
Header banner can be used to generate more leads by adding call to action buttons on it. You can also introduce yourself or your agency by utilizing a separate sections. With social media integration, you can also increase your followers and build a large number of audiences.
Some highlighted features of SKT Actor Lite are 1300+ Google font options, responsive layout, slider image header, translation ready, multilingual ready, social links, and smooth scrolling effects.
SKT Pottery Lite is one of the well SEO optimized templates from the list of free WordPress landing page themes it is even fully responsive, translation ready, multilingual friendly, and more. It offers all those features which are required to get higher search engine performance.
Thus the popular search engines will be able to understand your website's content very easily. If you ever think of setting up an online store then you can integrate one of the best eCommerce plugins i.e. WooCommerce which will allow you to start selling products right away.
If you want to engage your customers then you must use a header banner. You can include different social media networking profiles such as Facebook, Instagram, Twitter, Linked In, etc to get more people connected to your business.
Another best option for speakers, mentors, corporate businesses, IT businesses, entrepreneurs, is Local Business Lite. This template comes with the blog so that you can add more informative content about your business and its services.
It is a customizer based so it gives you a live preview option too. Different sections can be utilized to display information related to services, testimonials, about, team, and many more.
You can style your typography from 900+ Google font options, unlimited color scheme, slider option, and more. The template is fully compatible with Elementor and Gutenberg so that you can change your website content easily.
Junk removal is one of the best free WordPress landing page themes which is related to good cause niches such as non-profit organization so that they can receive a huge donation from all over the world or one can create activism website so that they can appeal thoughts for a good cause and so on.
Basically the demo of Junk removal Lite helps you to generate awareness on cleanliness plus help you to offer services like junk removal, appliance recycling, carpet removal, mattress disposal, and more.
The best thing is that the template is well optimized for SEO as well as speed also it adapts every screen resolution size. However, the footer of Junk Removal Lite is designed in such a way that people can find the footer section more helpful.
This is one of the perfect free landing page WordPress themes for launching a new product, services, and packages. It is one of the best-selling WordPress themes on the list as more and more companies are coming up every day.
It has passed Google's speed and mobile-friendly test. You can show the latest posts from the blog section beautifully on the homepage to engage your visitors. Product and portfolio section are amazing designing. You can do much more with its pro version.
This is one of the best free landing page WordPress themes on the list. As the name suggests, it is best for app showcasing as most of the companies are providing a mobile app for the ease of the users.
It can also be for launching innovative apps and make it viral with strong SMO and SEO support. The galleries are creative, and it is a one-page theme where you can have multiple sections on the homepage.
The sections have a translucent effect, and the background image is changeable, and you can showcase your brand through it.
A landing page is necessary for every event because people always look for details about events on the internet. It is a perfect theme for designing the landing page for any event, and it will make your event look premium.
It is retina ready and comes with all graphical aids and e-commerce plugins. In spite of being free, it has different shortcodes, and the sliders are more like premium. It has a flat design and several options for fonts are available.
It is important for a start-up company to showcase itself in the online world and prepare a landing page to get more customers and clients.
This is one of the perfect free landing page WordPress themes to achieve that purpose, and it has some of the best sliders, menus, galleries, and portfolio plugins.
There are options for immediate contact and social media plugins to share and write about your website and products.
This is undoubtedly one of the best free landing page WordPress themes. The reason is that it has amazing graphical components, flat design and loads faster than most others which are critical for the success of a website especially the landing page.
It is fully responsive and mobile-friendly, has amazing menus to list products and services categorically, and you can embed videos and have video sliders as well.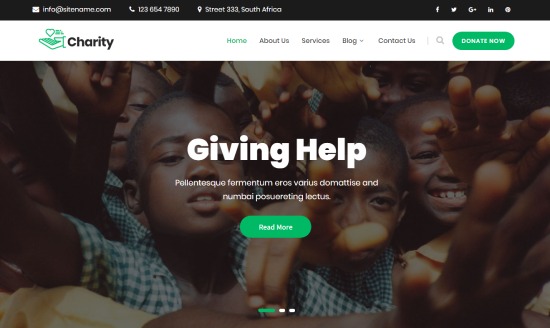 Every charity needs a landing age with WooCommerce support so that people can donate. This is a perfect WordPress theme for that. The color combination goes well and is fully changeable.
You can also have inner pages with page builder, but it might not be needed as you can have multiple sections on the homepage itself. There are some beautiful gallery options, and you can have a timeline to show the development of the charity and its achievement.
This is a modern theme and one of the best of landing pages of any company or their products. It has the innovative parallax background all different sections. The white background brings out the best of the foreground design components.
It is translation ready and has WooCommerce support. All the necessary sections are present with amazing templates and designing elements that are all eye-catching. It is best for promoting affiliate products and services.
This is one of the best free landing page WordPress themes with unique design and full-width creative slider. It is best for showing real estate properties, photography works and promotional videos of different products. It is quite attractive, and you are going to get a lot of response automatically from the visitors.
A landing page for kids' school is needed to captivate the kids and display contact and important notifications. It is one of the best free landing page WordPress themes for such schools and educational institutes.
It is colorful and contains all the fun elements for designing. It will attract the kids instantly, and they would be motivated to attend the school. There are call-to-action options and multilingual support. Everything is completely customizable.
This is one of the stunning free landing page WordPress themes on the list. It is best for photographer and photography agencies. It has a full-width slider with amazing transitions. It is more like watching on TV. It is absolutely retina ready, and the menu of the top is translucent.
There are some awesome portfolio plugins and galleries. It is SEO and SMO friendly which are bonus. One can also have a blog section with cool page templates available with it.
This is one of the most amazing free landing page WordPress themes for showcasing products and services that are related to female. The layout is girlish, and women are going to like it a lot.
You can make a change to the design with the live customizer. It is a fully responsive theme with compatibility for mobile devices. All the standard and necessary pages are present, and the sidebar is widget-friendly. You can set up an e-commerce website with it.
These are some of the best free landing page WordPress themes you will ever get to design a landing page for your product, service or anything else. They can be used for general websites, and you can use a dual theme to get the best first impression effortlessly.