Free Easy WordPress Themes for Easy Set up and Easy to Use Websites
These free easy WordPress themes are capable of full customization and contain all the variety of features. They are going to make your website look great and fully functional.
When you want to make your website for the first time, you should always choose an easy theme so that you can setup it up perfectly without glitches.
Furthermore, the current trend suggests that the visitors like easy themes for swift navigation.
There are several high-quality free, easy WordPress themes listed below with which you can create different types of websites.
It is one of the free easy WordPress themes for any individual to showcase his services and drive potential customers easily.
It is very easy to set up and modify later. The theme is clean and modern, and hence, the navigation is intuitive.
There are options for social media integration, WooCommerce, full-width slider and live customizer.
Furthermore, the theme is fully responsive and has passed Google mobile-friendly test.
This is one of the coolest free easy WordPress themes to showcase your hotel business in the best possible way. It comes with stunning galleries and sliders to show the interior and exterior of the hotel to impress people and make them book your hotel immediately.
There are options to make a booking and pay in advance through the payment gateway. There are various effects and animations on the home page. It has various SEO plugins, and SEO standard is high.
SKT Charity is one of the free easy WordPress themes to create a charity website all by yourself without any knowledge of coding or prior experience.
You can modify every component of the theme, and the website is sure to look wonderful to highlight the cause and campaigns. Willing people will be able to donate money through the payment gateway. You can also highlight different events where come can come and contribute.
This is a perfect theme to put forward your medical ventures either individually or as an organization. It is mostly used by clinic and doctor especially dentists. All the standard pages are available and only a few modifications will make your website ready for publishing.
There are options for changing color and make customization as per requirement. There are plugins for SEO, portfolio listing, WooCommerce and social media integration.
There are also call-to-action buttons which are highly useful, and you can have widgets on the sidebar to show useful links and texts.
This is one of the best free easy WordPress themes to create a website for a construction company. Though most of the construction companies get works offline through the bidding process, but having a quality website will give them more exposure and better chances of winning the bid process.
The theme has professional look, and you can design it the way you want to. It is fully responsive, and you can even create a few blogs to illustrate different processes that set you apart from others and inform shareholders about projects in progress mode.
This is a great theme with which you can set up a blog because every new blogger wants to start with a free theme that looks premium.
Any amateur blogger can create his own blog with this theme from scratch, and the layout is so perfect and the good SEO value of the theme will help driving enormous traffic if the content is good and optimized for search engine.
There are sidebars along with creative widgets, and there are video slides and payment gateway in case you want to sell some affiliate products through your blog. Most importantly, it has an advanced comment section and social media integrating plugins.
It is one of the most colorful best free easy WordPress themes and perfect for creating a website for kids school. It is going to look attractive and get the kids excited to join the school. It is SEO friendly and mobile friendly.
There are various features through which the website could be made more functional for existing students and their parents to check out progress and other stuff directly through the website. One can also make payment of fees easily.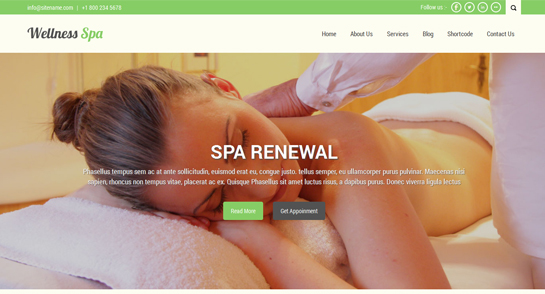 If you already have a store such as salon, beauty parlor, massage center and likewise, you can use this theme to represent your store and business online and reach out to more and more people. The design is simple, and the information is more highlighting so that users can get what they want.
These are call-to-action buttons to make an appointment and advanced contact page for faster communication. You can also attach ad widgets and sell affiliate products.
This is one of the best free easy WordPress themes to use to showcase your edible store online. It will help you get more customers and orders. You can find out your menu, prices and working hours and schedule their visit accordingly.
You can also open home delivery service and take orders directly from the website. The theme is mobile-friendly and supported all web browsers so that people can access it from any device
Fitness centers are booming as people have become more conscious about health and living a healthy life. They always search for local gym centers where they can enroll after ensuring that all the different facilities are available.
The theme has a classic design, and the sections on the home page looks lit. It makes the fitness center looks premium, and it is sure to drive more customers easily by having the best first impression.
Start-ups do not want to waste their money on creating an expensive website and hence, they go for free themes that are attractive and establish them perfectly in the market.
It is one of the best free easy WordPress themes with stunning design, and all the requirements components are available to highlight the business and impress the visitors at once.
Choose the best one from these free easy WordPress themes and design your website from scratch and publish it to drive enormous traffic.
Most of these free easy WordPress themes have good SEO value to rank well on a search engine, and generating leads for your business.