There are stunning free school WordPress themes available that can advertise the school for admission and achieve other purposes.
Just like every other institute and company, schools need to get their website online not only to advertise themselves but also to show vital information to the existing students.
Information like announcements, result declaration, holiday list, online payment of fees and much more can be achieved through a website.
These free school WordPress themes have awesome designs and robust functionalities, and they are sure to rank high on search engines.
If your school is a girls' school, this is the theme that will do wonders for you. It is primarily designed to captivate girls, and the design is super stunning to create the trust factor.
Girls will find it cool to take admission in such a school. The theme has all the required features and functionalities that a school theme must have. It is compatible will all browsers and devices.
There are awesome sliders and gallery to showcase the school in the best possible way and get people to take admission instantly.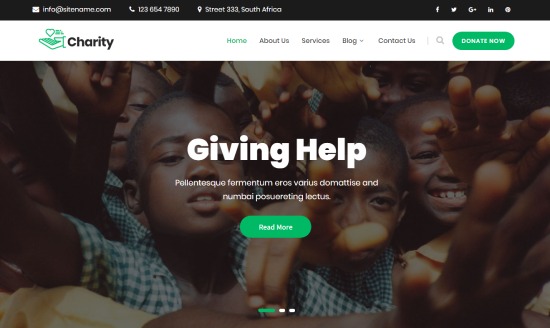 Even though the theme is mainly for charity purpose, it serves greatly to create a professional school website with all the ingredients. The free images that come with the theme are tailor-made for kids.
The theme is fully responsive and mobile-friendly. It has good loading speed, and there are lots of gallery plugins. You can also show the teachers and their qualifications and roll a slider showing the testimonials of students and parents.
This is one of the best free school WordPress themes on the list that showcase a school in a grand way. You can show the different parts of the interior of the school and captivate the audiences who are likely to be parents and students.
They would take pride in taking admission to such a school and naturally, you will have a lot of admission than usual. You can also show different departments and subjects along with extra-curriculum activities which are main attractions now.
This is one of the free school WordPress themes which can highlight your school in the best possible manner. The color combination and design of the theme are great. There are various useful plugins available.
The animations and effects on the homepage will surely catch eyes and elongate engagement and make a good impression.
There are various shortcodes available, and it also has multilingual support. Social media integration available will help to gain the targeted audiences easily.
This is one of the tailor-made free school WordPress themes which is meant for kids school. The design and colors used are perfect to intrigue them and take admission to the school. This would also help the parents who had to force their children to go to school.
By checking out the ingredients of the website thanks to the theme, they will surely look forward to going to the school. There are various animations and effects available, and everything is fully customizable.
It has a dedicated FAQ and knowledge base segment which is very important for a school website. It is SEO and SMO friendly as well.
This is one of the coolest free school WordPress themes on the list. It is best for those schools which have amazing decorations and designs both from inside and outside.
The reason is that it is primarily based on galleries and showcasing amazing images to captivate the targeted audiences. It has social media integration system, and it is very easy to customize from the back end.
Make sure the images you use are of high quality. The sidebar can have widgets, and it has vital SEO plugins for writing content that ranks well on the search engine result pages.
This theme is applicable for big schools that have high accommodation capacity because the theme looks perfectly professional. You can change the design and components of the theme in real time.
All the different ingredients for designing and functionalities through plugins are available for use. The design is clean, and it is fully responsive. It is tailor-made for all devices.
The theme is fully documented and has WooCommerce support for payment gateway in case students want to pay fees online.
This is one of the stunning free school WordPress themes with classic design and color combination. The theme is well-planned, and it comes with a double menu where you can additionally show working time and contact details.
You can have a blog section to educate parents and students about lifestyle and guidance. There are many widgets available for direct use in the sidebar. There are advanced contact forms and plugins for immediate contact.
Open Schooling is becoming a concept in today's world and this theme is dedicated to such schools. There are a lot of students interested in such a schooling way because of less burger and natural environment to study and prosper.
The theme color is grand, and it has translation support. There are 3 types of page templates available for creating inner pages.
The sliders can be used to show achievements of the past years by the students and facilities available in the school.
This is one of the best free school WordPress themes for a new school to get started. A new school needs a lot of promotion and SEO value, and that is exactly what it has.
There are advanced gallery, contact plugins, and WooCommerce support.
The SEO plugins will help in writing effective content on the site. The theme has passed Google mobile-friendly and speed tests. It comes with customizer for editing and page builder to create any page you want.
These are definitely the best free school WordPress themes on the list that will take increase lead generation. Kids are going to like them and urge their parents to take admission.
There are awesome galleries to captivate the audiences easily. Using any of these free school WordPress themes, you can take your school to the next level.