These free NGO WordPress themes have all the required functionalities.
With the rise of human population, non-government organizations are also increasing to help out needful people. Every NGO runs on donations from the volunteers and external sources.
It is important for an NGO to have a website to collect donation from people willing to donate for their cause and activity.
There are awesome NGO WordPress themes available with which different types of NGOs' websites can be built. They also have social media integration to reach out to more and more people easily.
This is one of the complete free NGO WordPress themes. All the necessary pages and contents are available. It supports all the standard plugins, and the theme works well on all devices.
It comes with WooCommerce integration for people to make a donation. The design of the theme is perfect for highlighting the cause and activities and to encourage people to take part and donate.
It is translation ready and has social media integration to spread the NGO thick and wide for more support and bigger success.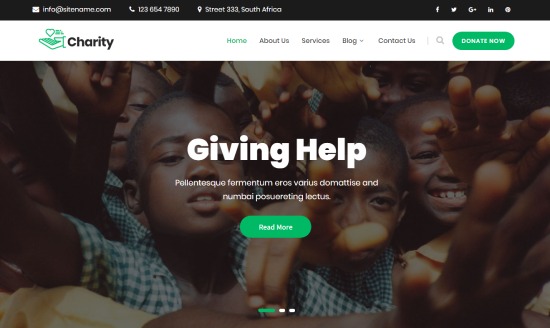 This is one of the best free NGO WordPress themes, and it comes with dedicated pages to showcase the members who are working for the organization. There are various gallery plugins available to showcase the works done.
The contact page is made advanced for people to contact and make a personal contribution other than monetary contributions.
The theme is clean and fully responsive and works on all devices and browsers wonderfully. You can change the colors and add an event calendar to show different events and get more donations on those days.
This is one of those free NGO WordPress themes that can be used for NGOs dedicated themselves for the uplifting women in the society and women empowerment.
The theme design is awesome, and it is a very lightweight theme with flat design and faster loading speed. It is SEO-friendly as well, and you can write blogs to encourage people and show them how you are making a difference. The theme is fully editable and customizable.
This is a great theme for NGOs to accept corporate donations and make a big difference in the society and environment. Companies make a donation in the local NGOs for the social responsibility like planting trees, cleaning the local areas and medical camps and likewise.
There are useful plugins installed for monetary transaction, invoice generation and creating a timeline to show achievements and highlighting the contributors. One can also use rotator testimonial plugin to show what local people are saying about the initiatives by the NGOs.
This is one of the beautiful free NGO WordPress themes with full-width slider. You can showcase the achievement in the slides and impress potential donator at the very beginning. All the necessary pages are present, and you can create any inner page with advanced page builder.
There are a lot of options for customization. It also comes with lots of fonts and shortcodes to write attractive content and make the best impression. Apart from that, the social media integration will help to reach out to more people.
This theme can be used to represent NGOs that are helping kids in education and living a better life. The theme is colorful, and you can have FAQ section to assist people in making different types of contributions.
It has double top menus and multilingual support for getting support for every community. The theme is fully documented for advanced editing, and there are widgets for placing them on sidebar and footer.
This is one of the awesome free NGO WordPress themes on the list. It is best for those NGOs organizing health camps in different areas for free checkup and treatment at low prices so that underprivileged people can afford it.
The contact form is advanced, and there are options for integration of social media and make it a grand initiative. The homepage is wonderfully designed to that will inspire people to do something good for the society and make it a better place to live in.
This is one of the best free NGO WordPress themes which work on special occasions to help underprivileged people.
These NGOs generally consist of full-time workers who get time quite rare, and when they do, they organize different events in different areas and help out poor people in all possible way for their personal as well as collected donations. It is SEO friendly and has advanced social media options to make the big successful and grand.
This is one of the tailor-made free NGO WordPress themes. The layout of the theme is perfect for NGOs, and several beautiful icons are used to represent different works an NGO does for the society.
The contents are represented wonderfully, and it will surely motivate people to be a part of a good initiative. It comes with parallax background which makes the theme all the more beautiful and there are social media integration, WooCommerce, contact form, slider and awesome gallery options.
This is a wonderful theme to represent an NGO that provides medical aids to the underprivileged people in the society. Several doctors can contact to offer free services during their free time and put a smile on the face of people like never before.
It has WooCommerce integration, SEO plugins, and social media update boxes. It works well on mobile devices so that more and more people can get involved and take the initiative to the next level.
From the name of the theme, you can understand that it is one of the best free NGO WordPress themes. It is best for those NGOs who buy gifts for the poor kids, and people from the donation collected and put a smile on their faces. It is call-to-action options, live customized and organized design.
Through these free NGO WordPress themes, it is easy to reach out to people and make your presence felt. You can showcase your works and encourage people to make donations to do better works and help more number of needful people.