Are you looking for best Free landing page WordPress themes? If yes then you are definitely on the right place. Here I'm going to listing some extraordinary free themes that suits on your different different niches business websites.
Before I started, I want to ask one question what you see in any theme at the time choosing landing page WordPress themes?
Your landing page WordPress themes should have a call to action, It should be responsive, simple, functional, lightweight, and easy to use. These are the some major things which you have to consider at the time of choosing WordPress theme for landing page.
Here I'm listing you some amazing Free WordPress themes by one and only SKT Themes, They guys have done such a great work, gives their clients tremendous support and yaa some really marvelous theme collection as well. Here you go…!
Top Best Free Landing Page WordPress Themes
SKT Charity
SKT Charity is a super clean and attractive WordPress theme specially built for charity. This absolutely free theme comes with a vast number of customization features.
It offers you fully responsive layout, that is the must have feature for any theme. Apart from that It cross compatible with all possible browsers Google, Yahoo, Bing, safari etc. and provides you RTL and Multilingual support.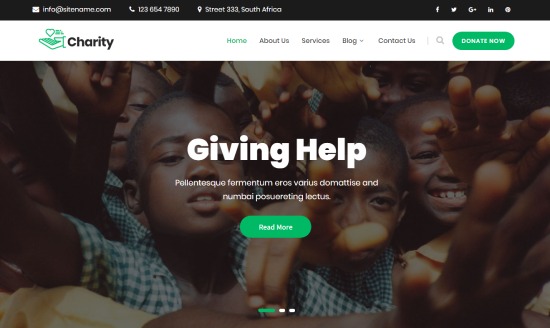 IT Consultant Lite
IT Consultant Lite is a Free consultant WordPress theme, comes with such an minimalistic design. It cleanly coded with HTML5 and CSS3.
This functional WordPress theme is fully responsive and looks absolutely amazing on all kind of devices either laptop, desktop and mobile phones. If you are planning to set up any consultancy related website then this free theme quite a good choice.

SKT Construction Lite
SKT Construction lite is a construction WordPress theme enable you to create any kind of construction, real estate, architect and landscape website.
This fully responsive WordPress theme offers some amazing features that are enough to add functionality on your website. It's based on WooCommerce and built upon Customizer API.
SKT Magazine
If you are planning to set up any magazine and news portal website and looking for the theme that fulfill your requirements then SKT Magazine is quite a good choice. SKT Magazine a huge amount of customization settings.
You can make any changes as per your need. This beautiful theme is cross compatible with all the major browsers, fully responsive and comes with amazing, eye catchy layout. Check it out now.
Recipe Lite
Recipe Lite is an free food WordPress themes gives you a great way to showcase the food and recipes in quite attractive way.
Recipe is based on HTML5 and CSS3 and comes with such an extensive number of customization features, such as 100% responsive layout, cross browser compatibilities, SEO friendly theme, multilingual support and RTL support and much more.
SKT Design Agency
SKT Design is the most cleanest and simplest free design agencies WordPress theme specially tailored for startup, agencies, portfolios and business websites.
This fully mobile friendly themes is looks fabulous on every kind of devices perfectly and you don't need to hire any specialist for writing big codes. You can manage it by your own. The documentation is available as well.

High Tech Lite
If I talk about High Tech Lite, It's absolutely free landing page theme which is based on WooCommerce.
It provides you such an eye catchy sliders, mobile friendly layout and include the Call the action, contact email gathering and simple design and super easy to set up. Which is must have features in any landing page theme.
Flat Lite
Want to set up an simple and sober Event website the checkout the Flat Lite, It's really a professional looking theme based on HTML5 and CSS3. It uses Shortcode plugins and page builder plugins as well.
You can create any kind of simple to complex pages just in few minutes. Talking about it's features, This theme has fully responsive design, cross reconcilable with all the possible browsers and devices.
Clean Lite
Clean lite is such a versatile multipurpose theme easily fits on business, startup, blog and portfolio websites come with rich typography.
It provides you some default sliders which shows animated sliders, attractive home pages layouts.
Clean lite s fully SEO and SMO friendly, as it supports and compatible with SEO plugins and gives social media icons and easy to use and customizable.
About the Author:
Naveen is a Digital Marketer by Profession, Blogger by Passion, and kind by nature. He is working with JoomDev – A Leading Joomla Template and WordPress Themes development company in India.
Apart from this, he loves to research and converts new ideas into reality.