There are various free commercial WordPress themes available.
They are powerful and tailor-made to make a business shine. It is a known fact that for every business and company to be successful in the present scenario, online presence is mandatory.
Offline marketing is becoming outdated and online marketing and promotion are keys to getting targeted audiences easily. There are many platforms for designing a commercial website, but WordPress is the best.
The following handpicked best free commercial WordPress themes can take your business to the next level of lead and revenue generation.
Naturo Lite is a theme with minimalistic design approach which means it has minimum designing components but super fast loading speed.
A commercial site has to look professional and user-friendly both of which are achieved by this theme. You can use it for any type of commercial website, but it would be the best for construction and real estate related website because it already has some sample pages for them.
Your website can easily get a high position of the search engine and hence better exposure thanks to its good search engine optimization approach.
SKT Strong is a multipurpose theme which means you can use it for various types of commercial website.
Whatever the website is, it is sure to make it successful. The social media and search engine plugins are critical, and you can use them to target your targeted audiences easily.
You can set up paid campaigns, and the website design will help you get more leads and retain them for long. It is translation ready and has advanced featured which are important for a commercial website.
Therefore, it qualifies as one of the best free commercial WordPress themes on the list.
Hotel and restaurant are perfect commercial business, and most of the hotels are being booked online in advance. The Hotel Lite is one of the most suitable free commercial WordPress themes with all the required features. It has a payment gateway for users to pay advance payment.
There are advanced contact forms for making a booking online. The call-to-actions form would definitely help to engage the potential customers easily. The overall design is clean, modern and very attractive.
Construction is a big industry where most of the offers come through bidding. But it is mandatory to have a website for shareholders and even for clients to check your portfolio and past works. Value testimonial and references can help you get big project easily.
SKT Construction Lite is one of the best free commercial WordPress themes here to build your website perfectly. The site will show your works through portfolio plugin and gallery and slider.
They are likely to captivate the potential clients, and they are likely to award you the orders.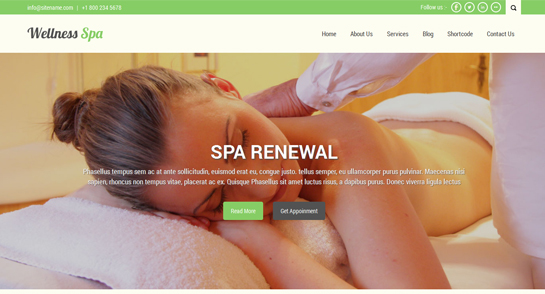 Beauty Spa, Massage centers, Beauty parlors are one of the best businesses to be in because women are trying out different options to look beautiful and keep their figure perfect. Beauty Spa Lite is a commercial theme for listing your store online.
It is also applicable for companies and agencies which have multiple branded stores spread across the state or country. You can modify and design everything yourself without really knowing it beforehand.
Interior designing is a booming business at present because the aesthetical value of human life and vision is increasing exponentially. There are so many innovative interior designs available that people are being drawn towards them.
Interior Lite is one of the bestselling free commercial themes on the list. It has a blog section where you can display your creative ideas and get customers easily. Apart from that, it is search engine optimized for better ranking. Local people will discover you very easily and book an appointment.
It is a lightweight multipurpose theme suitable for any business. It has a perfect professional design, and so many useful plugins are available for adding attractive features.
It has multilingual support for different types of customers, social media integration for better reach, search engine optimization for organic traffic and WooCommerce support for monetary transactions.
There are schema plugins, awesome sliders, and galleries to showcase business products and services with evidence.
This is one of the most popular free commercial WordPress themes on the list.
Every business requires a commercial website, and Bizness Lite is one of the most perfect free commercial WordPress themes. You can design your website the way you want it because it provides advanced customizer and page builder.
You can change font, layout, fonts and use shortcodes for embedding various useful components at any place. You can use the theme for any purpose. It is SEO-friendly and appears equally good on all popular browsers and mobile devices.
Just like SKT Construction Lite, SKT Build Lite is another powerful WordPress theme for real estate, infrastructure, and construction businesses. It comes with some creative and attractive gallery options, sliders and sections on the homepage.
Yet it has maintained a perfect professional look. You can get all the basic supports from its documentation. Necessary pages are available with required features, and it is compatible with standard plugins. It is also a widget-friendly theme, and you can show amazing widgets on the sidebar or footer that audiences will find useful.
Start-Up Lite is one of the most popular free commercial WordPress themes because so many start-up companies are coming up with commercial products and services.
They are using the theme to list their items gracefully to impress the visitors and turning them into long-term customers and clients.
The social media support, SEO support, stunning sliders and galleries and most importantly WooCommerce support are all a company would desire to have.
It is one of the best free commercial WordPress themes for law-related agencies which provide legal assistance and guidance to the corporates. One can set the packages for the audiences to understand the pricing.
There are shortcodes for listing testimonial which would definitely increase the confidence of the audiences to hire you. Designing is perfect and has a class. All the features are present with advanced plugins.
If you already have a commercial website, use should definitely change the present theme with any of the above-listed free commercial WordPress themes, and you will see the difference yourself.