These free blog WordPress themes can be used for personal or commercial blogging. You can design them the way you like them to be without any knowledge of coding.
Blogging is one of the best things on the internet at present. Blogs are going viral like never before and hence, more and more blogs are coming up every day to earn money online.
Setting up a blog is very easy and inexpensive. WordPress is the best platform for designing a blog and start blogging.
There is free blog WordPress themes available with beautiful layouts.
This is undoubtedly the best theme for creating a blog of any type. It is tailor-made for commercial blogs to be successful. It has high SEO value and with right keywords research and usage, you can land on the first page of search engine result pages.
You can have sidebars and widgets in header and footer. It appears wonderfully on all devices and has cross-browser support. It also comes with WooCommerce support for selling merchandise or affiliate products. The comment section is feature-rich with Facebook and Disqus section.
This is one of the best free blog WordPress themes for creating a blog related to females. It could be a fashion blog, a beauty tips blog or lifestyle and DIY blog. The layout is awesome with colorful designing components.
The widgets are best placed, and there are multiple layouts for header and footer. The boxes on the homepage to show latest posts are innovative and have shuttle animations.
The menu and sliders are the main focus points, and they will get more clicks for sure. It has passed Google test for mobile-friendliness and loading speed.
This is one of the most amazingly designed free blog WordPress themes. The color combination is awesome. Your blog is going to stand out because of the beautiful colors and icons used.
The slider is awesome as well along with gallery options. It is best for health and travel related blog. It is fully responsive, works well on mobile devices and all browsers. It has multilingual support, different types of page templates and awesome menu tailor-made for blogging.
This is a personal blog theme. It is best if you use it in combination with YouTube videos. It can be used by brands to write blogs related to their videos and make them viral. You can also sell stuff directly from your website with WooCommerce support.
There is innovative plugins pre-installed and it comes with parallax slider. You can also have a forum to engage the visitors and solve their problem to increase your brand value.
This is certainly one of the most eye-catching free blog WordPress themes for beauty and fashion. The slider is killer, and the sections of the homepage are worth watching.
There are creative light animations, buttons are creative, and the overall design is sure to make the blog memorable.
It has passed Google test for mobile-friendliness. As a matter of fact, it is retina ready, and you have the license to use the provide gallery images.
This is a multipurpose theme, and it is going to be the best for creating a commercial blog. The design of the theme is professional, and your blog will be super viral because of its innovative social media support. You can set up campaigns and get more conversion that before.
The average time spent on blogs will increase if you choose to use its creative widgets to show related posts and other criteria based posts. The navigation is super intuitive, and the menu option will help to show snippets of latest posts from every category.
You can design customized blog with Shudh. It has all the designing ingredients, and all you need to do is to customize them live and set them up perfectly to start blogging. It is a lightweight theme with flat designs but very eye-catching.
There are multiple layouts, awesome galleries, creative slider to display latest posts and innovative widgets to keep the visitors engaged.
It also has translation support, SEO plugins support, and standard pages. The presence of cache plugins will help it load faster, and it is compatible with all devices.
This is one of the best free blog WordPress themes to create a health related blog. Health blogs are doing great at present as more and more people have started valuing healthy living.
The color combination is amazing, and the layout is creative to captivate the visitors for long. It is a widget friendly theme, and there are page templates for inner pages.
It is very easy to customizer live, and you can use affiliate products to sell them directly. The galleries are awesome, and various types of boxes and blocks are present to be placed on the home page.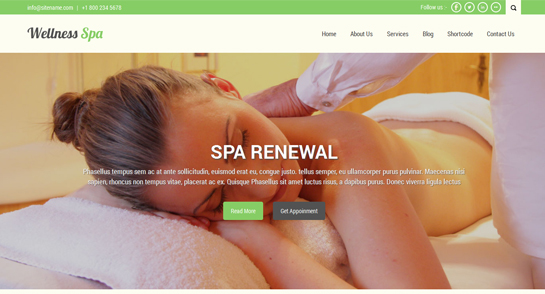 This is a wonder theme to create a beauty and fashion related blog. It is beautiful in design and quite simple as well to load. It is suitable both as personal as well as commercial purpose.
The navigation is intuitive, and there is a lot of whitespaces. Hover effect is cool, and the slider is great. Social media integration is going to make you reach out to people easily and most importantly, it is SEO friendly.
These days, people are creating websites for a wedding and using it as a blog to share their stories and plans. It is more like creating a personal place on a public platform.
This is one of the great free blog WordPress themes for putting up different events to come with an event calendar and have a blog to share feeling, story, moments and stuff like that. It is more for personal blogging, and it is fully responsive and can be seen equally well on mobile devices.
These are definitely the best free blog WordPress themes you need to create a blog that would be successful in short time. Make the best use of them and write quality posts and go viral to earn money like never before.